Filmworks IV:
S&M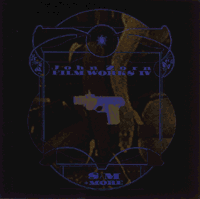 1. Pueblo
2. Elegant Spanking
3. Credits Included
4. Maogai
5. A Lot of Fun for the Evil One
---

While fairly dark, the fourth filmworks release is not the darkest or most confrontational of Zorn's work, especially not next to Painkiller or Torture Garden. It does provide some longer Zorn pieces for those used to the Naked City and early Filmworks jump cut style of writing. However, there is very little thematic development in these pieces, they are all pretty much single ideas or combinations of single ideas.
"Pueblo" is my favorite track on the album, a long medium-slow trance piece which combines Chris Wood's throbbing bass, the moody surf guitars of Ribot and Quine, percussionists Joey Baron and Cyro Baptista, and keyboardist Anthony Coleman. The piece is a long, dark vamp without solos or elaboration. It evokes abandoned towns and eternal desert landscapes with the hint of menace.
The rest of the pieces on the album are subsequently dark, from the haunting string group of "The Elegant Spanking" and solo piano of "Maogai" to the Cage-ian soundscapes on "Credits Included" and "A Lot of Fun For The Evil One."
This album works great as background music, especially "Pueblo", which Zorn calls one of his favorite pieces to listen on repeat to. However, except for Pueblo there is nothing really that special or unusually exciting about the album. I enjoy it, but it doesn't viscerally excite me like Filmworks VII and VIII do.

---

Pueblo
Robert Quine: electric guitar
Marc Ribot: electric guitar
Cyro Baptista: Brazilian percussion
Anthony Colema: keyboards
Joey Baron: drums
Chris Wood: bass
Elegant Spanking
Jim Pugliese: percussion
Jill Jaffee: violin
Carol Emanuel: harp
Erik Friedlander: cello
Credits Included & A Lot of Fun for the Evil One
John Zorn: keyboards, sound-design
Maogai
Kurodo Kyoko: piano

---

Home // Naked City // Masada // Tributes // Filmworks // Classical // Various